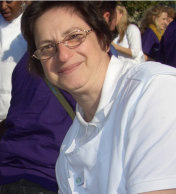 I qualified as an Aromatherapist in 1994 and after completing a year in practice, I decided to enhance my skills by undertaking a course in Reflexology qualifying at the end of 1996.
I put these new skills into use by offering an additional range of treatments. In 1998 1 further developed my reflexology skills by undertaking another period of study to take up "light touch reflexology"
My ongoing training includes course in Universal, Maternity and Colour reflexology and a course entitled the language of the feet.
I have now qualified in lots of other therapies as you will see from this page the latest being in 2022  Water Mastery healing system
Therapies 4 You was established in 2003, by myself, to formalise the complimentary therapy work I had been doing on a part time basis
Your first visit will include a free consultation which will require details of your medical background and lifestyle.
Useful guidelines prior to treatment are, avoid eating and drinking 1 hour before the session.
Ensure you wear suitable warm clothing to go home in.
Email sandra_wiseman@talk21.com